Do you ever feel like all you do is cook and clean? Do you wish there was an easier way to make dinner, or a better way to spend your time? If so, we have the perfect solution for you. This recipe will teach you how to make Easy Homemade Pizza and Homemade Focaccia that are sure to satisfy anyone. These recipes include Bonus scrumptious pizza ideas!
Ingredients for Pizza Dough:
2 Cups All-purpose flour
2 TBSP Squizito Extra Virgin Olive Oil (or any Squizito Infused/Fused Oil)
1 TSP Salt
3/4 Cup Warm Water and a little more
1 TSP Honey
1 Pkg (2 ¼ tsp) Active Dry Yeast

Instructions for Pizza Dough:
Place yeast, honey, and EVOO into warm water. Let sit 5 minutes or until frothy.
Pulse flour and salt in food processor (or mix in bowl if combining by hand which is totally doable).
Slowly pour yeast mixture into processor while on low.
Add more water 1 TBSP at a time until smooth ball forms.
Drizzle inside of bowl with EVOO and place dough in bowl to rise for 1 hour.
Making the Pizza:
Preheat oven to 550 degrees.
Place large cookie sheet upside down in oven. This will be used as a flat cooking surface to set the parchment paper with pizza dough on to bake.
Place half dough on parchment paper and push with finger to spread dough into a circle or square.
Poke fork holes every inch all around the middle of dough middle to keep dough from bubbling.
Brush dough with sauce or olive oil and top with toppings.
Place parchment paper with pizza in oven on top of cookie sheet surface.
Cook about 7-10 minutes. Until desired crustiness.

Scrumptious Pizza Ideas: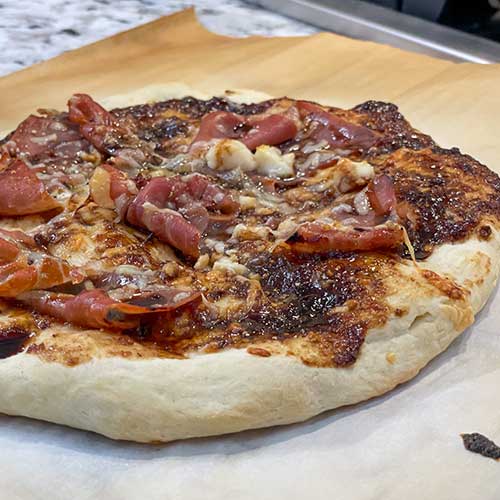 Fig & Prosciutto
Directions: Spread Fig Jam on dough. Crumble Goat cheese onto dough. Place prosciutto on top of jam. Sprinkle more goat cheese. Bake 7-10 minutes. Finish with a drizzle of Squizito Black Mission Fig Dark Balsamic Vinegar.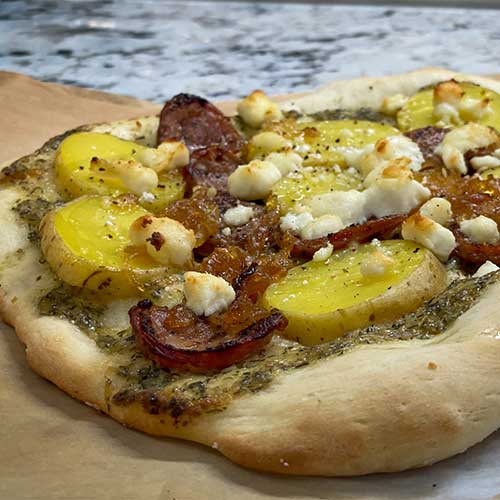 Rosemary & Potato
Directions: Spread garlic aioli, Squizito Garlic Infused Oil, or any white pizza sauce of your choice on dough. Layer cooked sliced potatoes, caramelized onions, and Gruyere cheese. Bake 7-10 minutes. Finish with a light drizzle of Squizito Rosemary Infused Oil and Squizito Lemon Infused Oil.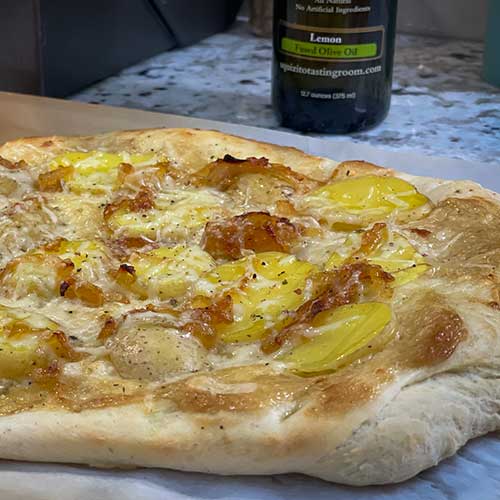 Hawaiian Pizza
Directions: Spread Squizito Cilantro & Onion on dough. Layer Canadian Bacon, Sweet crushed pineapple, and sharp cheddar. Bake 7-10 minutes. Finish with a drizzle of wildflower honey and Squizito Cilantro & Onion Infused Oil.
Dessert Nutella
Directions: Spread Nutella and blackberry jam on dough. Layer crushed pineapple and coconut. Bake 7-10 minutes. Drizzle with Squizito Strawberry or Coconut Balsamic. (or both)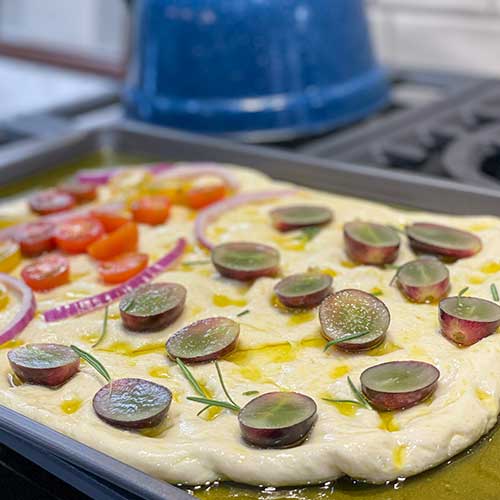 Ingredients for Focaccia:
Pizza dough (recipe above)
Shredded Parmesan (Optional)
Grapes or Tomatoes or both, cut into halves
1 Sprig Fresh Rosemary
Any other toppings you like
1 Cup Squizito EVOO or any Infused flavor of your choice. (We recommend Rosemary)

Directions for Focaccia:
Preheat oven 425 degrees
After dough has risen, pour 1 cup olive oil in a ½ " deep sheet pan.
Shape dough into a rustic rectangle on a floured surface.
Place on sheet pan and move around in oil before flipping over so both sides are oiled.
Let Rise in warm place for 15-30minutes.
Use your fingers to gently dimple the dough so it has little concaves to collect toppings. Drizzle with desired olive oil, top with whole or halved grapes, chopped rosemary, parmesan, and an even layer of kosher or flaked salt.
Bake until brown around edges. Remove from oven and let oil absorb into bread about 2 minutes. When cool enough, serve, and enjoy.